Each different type and style of garage comes with its own pros and cons. Depending on your circumstances and needs, one type of garage will suit you better than another.
We will examine the different types of garages, including the circumstances they perform best under. Here are all of the different types of garages.
Single Car Garage
Single car garages are one of the most basic kinds of garages. They usually have the smallest width which means they can only fit one car. The dimensions of a single garage can range considerably. However, they need a minimum width of at least 10 feet, and a minimum depth of 20 feet.
Width can extend all the way up to 14 feet, but the most common width sits at 12 feet. Some garages also have deeper length depending on the owner's desires. They usually only go to 22 feet at most.
Since single car garages have the smallest size, they should never be expected to hold more than one car. Additionally, their size means that they often cannot hold other equipment besides automobiles, such as lawn mowers. They work best for smaller lots and smaller budgets.
Two Car Garage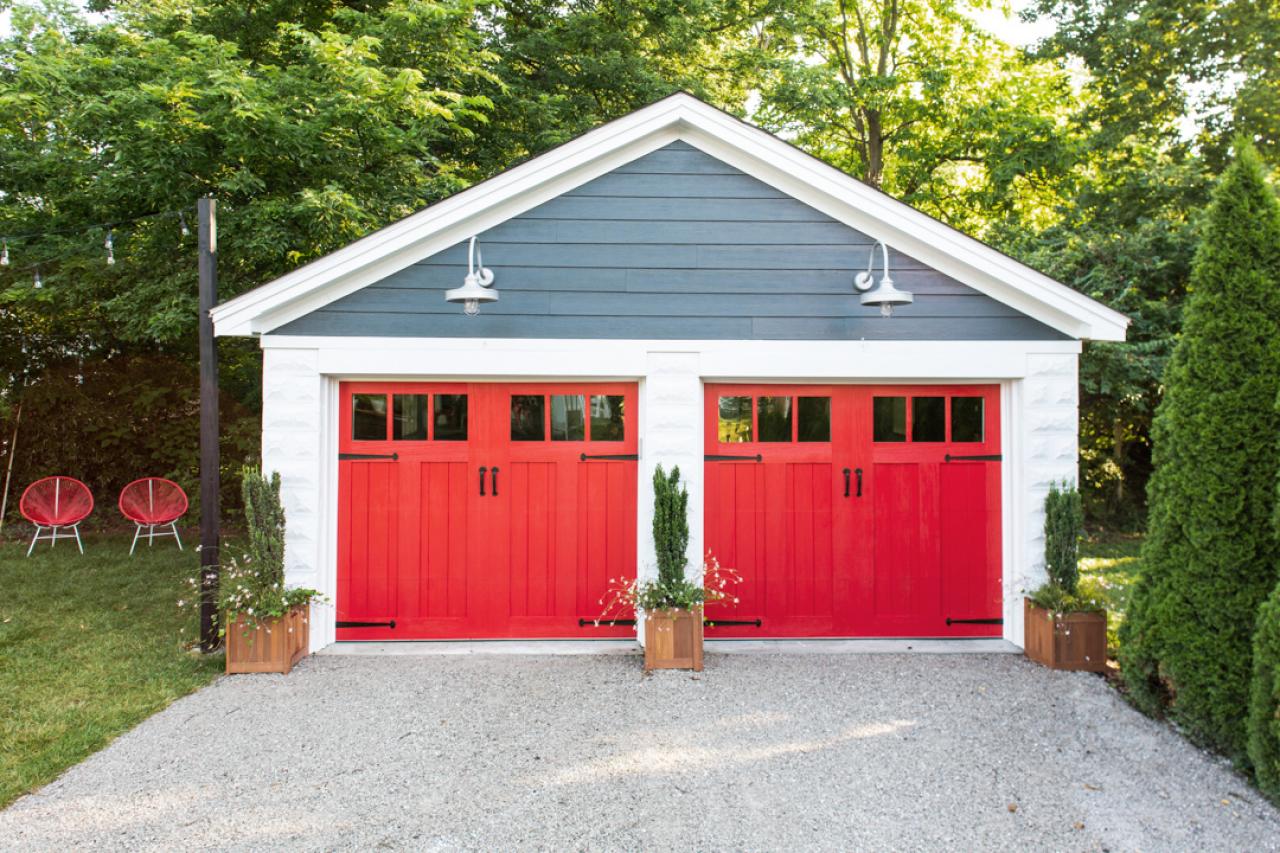 A two car garage is designed to hold two cars. Its dimensions range from 20 to 24 feet wide and 20 to 24 feet long. However, these dimensions can be extended based on the owner's wishes. A 20 foot width is considered the minimum to fit at least two cars.
Two car garages can either have one or two car doors. One large door requires less equipment to operate, such as the rails and lift system. However, two car doors allow for greater privacy. Many people use two car garages to store one car, and use the rest of the space to store additional equipment.
Three Car Garage
Some of the largest residential garages, three car garages offer enough space for three vehicles. They require a minimum width of at least 32 feet, but may extend upwards of 40 feet. Like all garages, they must be at least 20 feet long but frequently extend closer to 30 feet.
Many homeowners use their three car garages to store a lot of equipment instead of three vehicles. They often commonly convert one of the intended car spots into a workshop. Three car garages either have three single sized car doors or one double sized door and one single car door.
Because of their large space, three car garages have plenty of room for various functions. Whether it be a home gym, workshop or storage space, these garages have all the space you need. However, this also means they cost more to build.
Attached Garage
An attached garage shares a direct connection to a house or building. This means that they are built into the other structure, sometimes as a basement or as part of the first floor. They come with an extraordinary benefit in the winter by allowing homeowners to enter their cars without braving the cold.
Attached garages are often used as an additional space for household maintenance. Many homeowners turn them into laundry rooms or keep a second refrigerator or freezer in them. Their close proximity to the house makes them ideal for these functions.
Since the space of a house and driveway must be planned out to include an attached garage, they cannot be added on to many houses.
Detached Garage
Detached garages can come in any size their owner desires. Contractors can build them wherever they find space, but they often must remain connected to the driveway somehow. In order to get full use from a detached garage, they should have a steady source of power from their accompanying house.
Detached garages swap the convenience of an attached house for more options in placement.
Breezeway Garage
A breezeway garage combines the attached and detached garage styles. Instead of acting as another room like an attached garage, a breezeway connects the garage to the house instead.
The breezeway connecting the garage usually has only a roof and a few support beams. Many homeowners use the covered space as a patio. Sometimes they even close the breezeway off, especially making it another room.
A garage can have a breezeway so long as it is close enough to the house.
Garage Workshop
Many homeowners use their garages as a workshop as much as a place to store their vehicles. These workshops vary depending on their intended use by the homeowner. In general, a homeowner will reserve part or all of the garage space for a workshop.
Workshops commonly include a workbench, tool storage and any other installments required for proper use. A garage workshop specifically designed for work on cars would have enough space for at least one car plus some breathing space.
Most garage workshops do not take up the entirety of the garage. So they still offer plenty of storage space along with their workshop function.
Garage with Upstairs Home
Many homeowners take the opportunity to get additional living space above their garages. Some attached garages feature additional living space above the garage. However, even detached garages can have an upstairs apartment.
These spaces often act as guest houses or guest rooms. They give the occupant plenty of privacy with their own way in and out without entering the main house. The size of the apartment depends entirely on the size of the garage. They usually only have space for one-bedroom and maybe running water if the homeowners includes a water connection.
Carports
Instead of a closed space garage, a carport provides shelter from a roof except with open walls. Carports are cheap alternatives to full and permanent garages. Homeowners can erect temporary or permanent structures to keep their cars safe from the elements.
Carports have less functionality than regular garages since they do not have walls. This makes them less ideal for the storage of water-sensitive equipment. Some homeowners build a carport attached to their garage to store their cars under, while using the garage for storage or as a workplace.
Portable Garages and Carports
Like standard carports, portable garages offer a roof with open walls. Homeowners can put them wherever they like, and often place them on driveways. You can bring them wherever you like for on the go protection from the elements wherever you store your car.
Barns
Instead of a standard garage, you can build a barn instead. You can build a barn wherever you have space and have the most versatility when it comes to dimensions. Barns usually lack insulation, making them less ideal for year round workspaces and best simply for storage purchases.
How Do I Choose the Right Type of Garage?
When choosing a garage, keep the following factors in mind to help guide you towards the best decision.
Layout of your Home
Before you choose a garage, you need to consider its placement in relation to your home. Attached garages and breezeway garages have less versatility in their placement than detached homes. Also keep in mind your driveway layout so that you can connect it to your garage. In some cases, you may have to extend your driveway to reach your planned garage location.
Available Floor Area
The size of your garage depends on how much space you have for it. Garages take away from lawn and/or driveway space. Many municipalities limit how closely homeowners can build a structure to their property lines.
Number of Cars
Just because you have a lot of available space does not always mean you need the largest garage. Consider how many cars you wish to store or what additional purpose you wish to use your garage for. Once you determine how much space and how many cars you have, you can make a good decision on garage size.
Budget
In general, the larger or more complex your garage the higher its cost. Develop a budget before you get your hopes up on a larger garage space. Three car or higher capacity garages will cost the most. Carports and portable garages will cost the least, but have less versatility in their use.
Storage Solutions
Think about what you want to use your garage for in terms of storage. If you only wish to store vehicles, you can build a carport or a barn without worrying about temperature or weather. Many items require certain storage conditions, so if you wish to use your garage to store sensitive items consider implementing some sort of climate control system.
Conclusion
The right type of garage depends on your planned usage of it. Consider what you intend to use your garage for before selecting a building plan. Make sure you incorporate all the elements you need so that you can fully enjoy your new garage.
For more information, check out our additional blog posts.