Misplacing a wrench in the catacombs of your garage is the equivalent of losing a sock in the dryer – you know you'll probably never see it again. It's time to clean up that unorganized and tangled up garage.
Rubbermaid FastTrack and Gladiator GearTrack are both great organizers for that particular duty. They both are designed to put your things (and your garage) in order.
Is one system any better than the other? That's what our review article: Rubbermaid FastTrack vs Gladiator GearTrack is all about. We'll be deep diving into each system to see what they really offer, so be sure to read this article through to the end.
Rubbermaid FastTrack System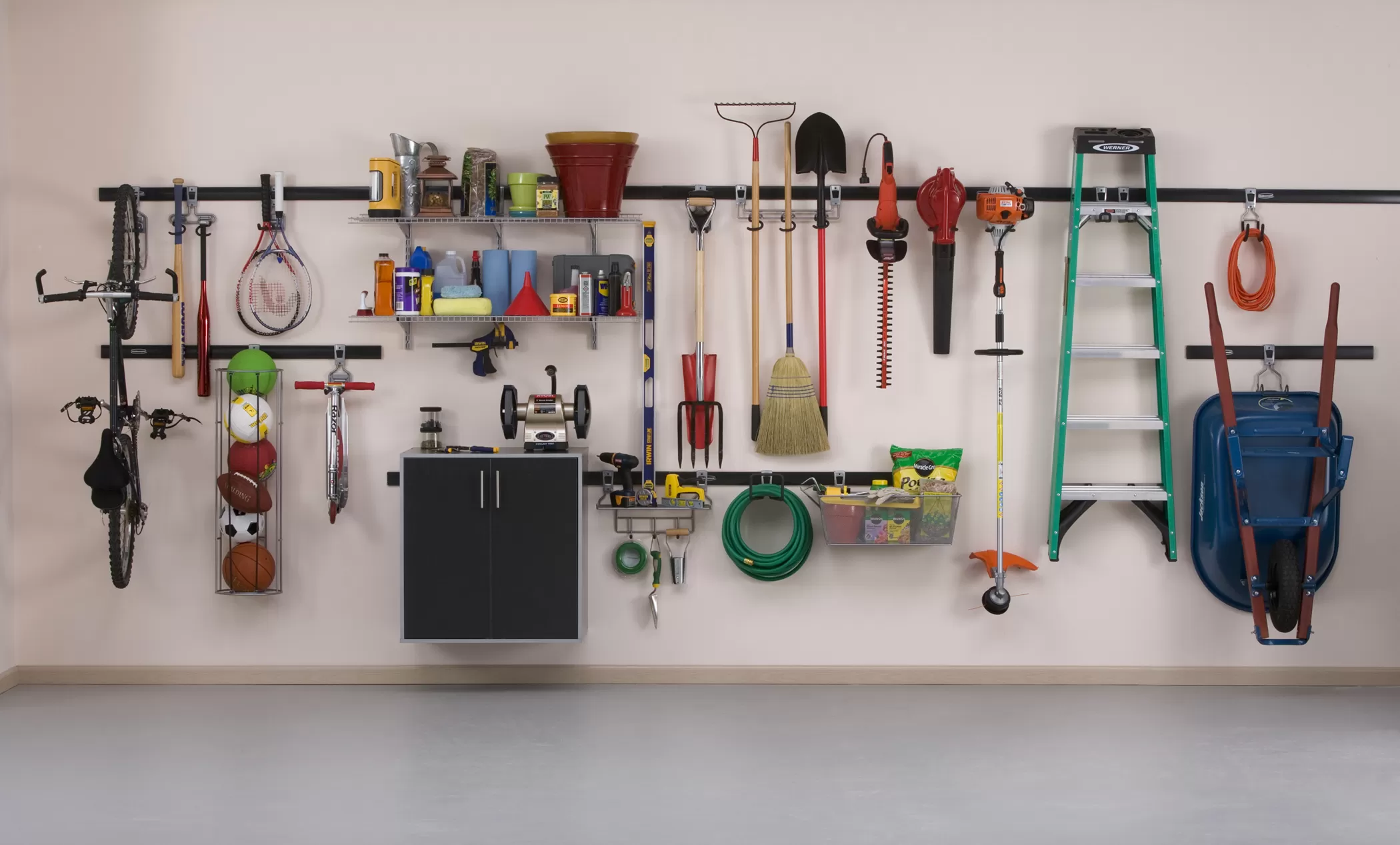 The FastTrack System is the company's way to properly organize tools, bikes, etc. Rubbermaid sells three different organization systems: The FastTrack Rail, Wall Organization and Tough Stuff.
Gladiator GearTrack System
Gladiator's GearTrack system is similar to the FastTrack. The big differences are the number of specialized "Packs" the company sells.
Product Comparison
Rubbermaid FastTrack vs Gladiator GearTrack Warranty
Rubbermaid FastTrack systems are covered by a one year limited warranty starting from the day of product purchase.
Gladiator GearTrack systems have a limited lifetime warranty for the hooks. The rest of the product is covered by a 10 year limited warranty.
Winner: Gladiator GearTrack
Rubbermaid FastTrack vs Gladiator GearTrack Starter Kits
The Rubbermaid FastTrack Starter Kit comes in three to four different sizes based on need, from five pieces to 23 piece kits. All kits include rails, hooks and mounting hardware.
The Gladiator GearTrack Starter Kit comes in several configurations. They include a 14 piece kit with a 48 inch rail all the way up to 90 inch rails, plus mounting hardware and clips.
Winner: Gladiator GearTrack
Rack GearTrack Pack
This is a rack that's designed to be mounted on the side of an open rack shelf. It comes with three strong hooks plus mounting hardware.
Entryway GearTrack Pack
This is a rather excellent hook system that's of course, designed to be mounted in the entryway to hang coats, hats, etc. The hooks can hold up to 25 pounds each
Multipurpose GearTrack Pack
Nearly anything can be hung or used with this pak. It's super strong, with the hooks holding up to 25 pounds, while the hook channel can handle 75 pounds per linear foot.
Sports GearTrack Pack
At 48 inches long by 6 inches high, this is the rack you will need for holding long items. Baseball bats, tennis rackets and even pool cleaning tools will hang comfortably with this rack.
Sports Caddy GearTrack Pack
Another great pack that comes with a cool detachable ball caddy. There's a couple of scoop hooks included along with regular hooks which are great at handling heavier objects.
Gardening GearTrack Pack
This 32 inch rack includes a very useful detachable gardening bag you can throw your tools into. It also comes with a couple of scoop hooks so you can hang things like a broom or shovels, etc. Two "J" hooks come with the pack too.
Lawn Care GearTrack Pack
The 48.5 inch long Lawn Care Pack is for holding your heavy duty lawn tools. The pack has several specialized Big Hooks that can hold up to 50 pounds each. You can hang items such as a lawnmower or heavy water hoses with ease.
Bike GearTrack Pack
Bicyclists will love this pack. It's 48 inches long and six inches high. This pack features one Gladiator Claw bike hook that can hold 50 pounds. There's also a vertical bike hook that is rated at 30 pounds. A couple of small hooks secure your bike helmets.
5-Piece FastTrack Starter Kit
The 32.88 inch long rail kit comes with everything you need to start organizing things right away. It will include a handle hook, a multipurpose hook and two scoop hooks along with the install hardware.
6-Piece FastTrack Starter Kit
The six piece starter kit is exactly the same as the 5 piece, except it includes a reinforced utility hook for heavier items..
15-Piece FastTrack Starter Kit
This is an excellent kit for nearly any purpose. When installed, it can support a whopping 1700 pounds. The kit contains 3 48 inch rails with four multipurpose hooks, three utility hooks, two utility hooks as well as mounting hardware.
Tool Hanging Kit
This Rubbermaid kit can hold tools both large and small. The two included rails are each 32 inches long and come with a wonderful power tool holder, a utility hook, two handle hooks and a multipurpose hook. 
Also Read: How to Install Rubbermaid Fasttrack
What Parent Companies Are Behind Rubbermaid And Gladiator?
Rubbermaid has been a subsidiary of Newell Brands since 1999. Rubbermaid has been in business since at least 1920. It is one of the most recognized companies in the world.
Gladiator is owned by the Whirlpool Corporation, another very well known and trusted brand that has been doing business for around 108 years. Gladiator itself was formed in 2003 and sells their products worldwide.
Conclusion
Thanks for striking with us. We hope you enjoyed our review article about Rubbermaid FastTrack vs Gladiator GearTrack. Which one should you buy? This depends on how many items you need to hang and organize.
For straight basic needs we would go with Rubbermaid due to the cost and convenience. For the sheer number of specific packs made for different tasks, the Gladiator systems are far more superior. Either way, these are top quality products that won't disappoint.
If you like what you are reading, please consider checking the articles below: