When creating your own masterpiece or tinkering on your favorite vehicle, you need a space that works for you. The ability to access, store and maintain your tools greatly increases the effectiveness of your work. Adding your own touches creates a unique space in which you can relax and enjoy. Explore the elements for planning and building your dream garage and the necessary steps to achieve it.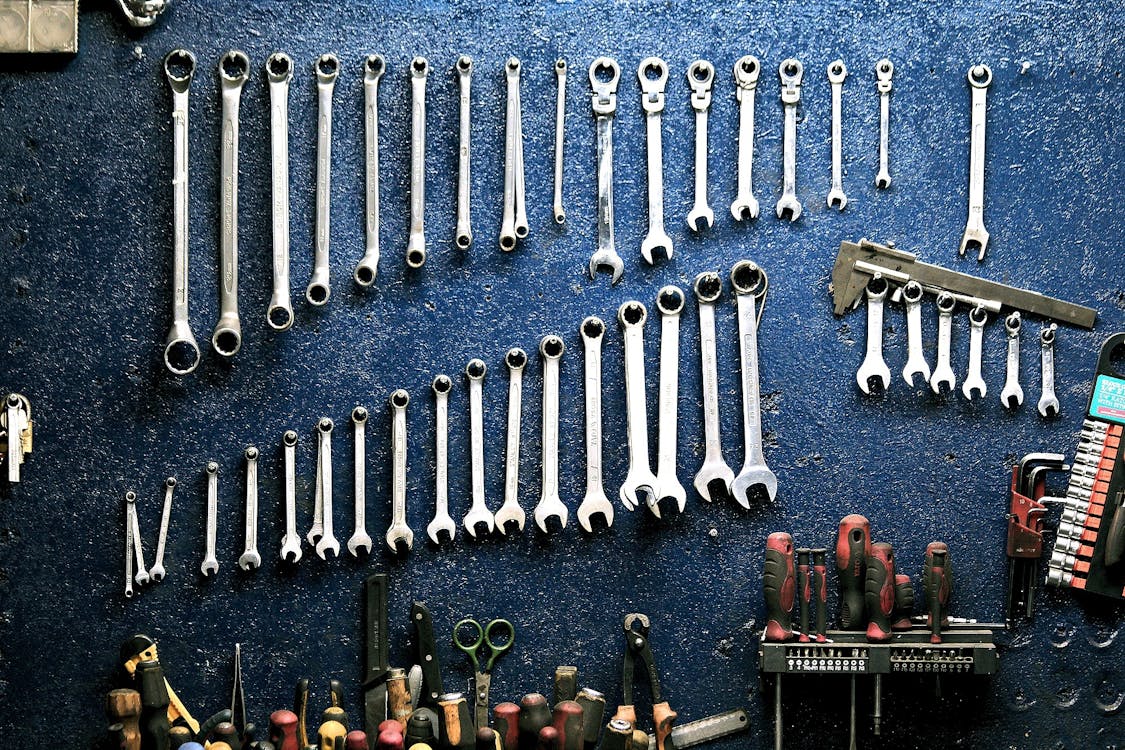 Organization and Safety
The foundational principles of building a thriving garage workshop are organization and safety. You want the layout of your garage to work for you, eliminating unnecessary dangers and wasted time in looking for materials or tools. When organizing your garage, take into consideration everyone who will be using it. Make sure that your wiring is safely installed and that water is kept away from any electrical outlets. Apply flooring that is easy to maintain and keep dry. Provide methods for safely storing gasoline and other flammable or toxic materials.
Workbench
Once you establish a safe and organized backdrop for your garage, turn your focus toward installing the heart and soul of your workspace: your workbench. Invest time into exploring different styles and select a style that matches your goals and approach to your work. Your bench can range from simple to complex, including a variety of drawers and levels. The common denominator that the workbench must-have is a sturdy surface made of solid materials that can withstand a lot of wear and tear.
Proper Lighting
A vital element to a working garage is adequate lighting. Consider the type of lighting you want throughout the garage. Install and test your lighting before adding a lot of additional features. Identify areas where extra lighting will be needed, such as around your workbench. Install switches that are easily accessible for maximum safety. When selecting the proper light bulbs to use, investigate the lumens as well as the wattage. This step will assure that you have the appropriate brightness for the work and atmosphere that you want to create.
Power outlet
A part of your organizational plan is the placement of your power outlets. Consider where you will use power tools and other electrical needs. Invest your resources into adequately supplying high-quality outlets throughout your garage instead of relying on extension cords. Excessive use of extension cords leads to both fire and tripping hazards. If you do not have electrical training, hire a professional to assure that this essential job is one correctly.
HVAC
One vital ingredient to the overall success of your garage is a proper heating, cooling, and ventilation system. Do your best work in a space that is comfortable in all seasons. Make sure that your vents are easily accessible and provide the right flow of modulated air. Have a backup system of fans and space heaters for times of extreme weather temperatures.
Tools
Don't skimp on the quality and range of your tools. Start with a base set of tools that will be needed for a variety of projects. Then establish your own project goals and start building a treasure of tools that will be needed for the jobs you want to accomplish. Make a goal of adding a tool per season. Look into deals that manufacturers offer for building a collection from their company. Do your research and read multiple reviews to select tools that come highly recommended.
Storage
Storage is a central part of your organizational system. Brainstorm ways to maximize storage space, including wall units, shelving, and drawers. Keep often-used tools near your workbench and store away others that will only be used occasionally. Have a logical system for storing small items such as nuts and bolts so that time is not wasted looking for your resources.
Finished and Insulated Walls
When building a dream garage, bare cinderblock falls short of providing the warmth and atmosphere that you need. Take time to finish the walls of your garage with drywall and your choice of paint. Insulate the walls to cut down on heating and cooling costs and to make the area appealing and inviting.
Wall Decor
Once everything is in place, pick a theme for your garage and go for it. Let your personality shine through with pictures, murals, and collections. Refresh and add to your wall decor from time to time. Keep conversation starters around so that others who come to work with you will get to know you in a new way.
Entertainment
Because you are building a garage that will provide hours of satisfaction, don't just focus on all work and no play. Bring in aspects that will heighten the enjoyment of your work, including surround sound entertainment systems, television and even gaming systems. Provide opportunities for breaktimes to keep your work both productive and pleasurable.
Raised Frame
If you have the resources, consider building a higher frame for your garage. This step will allow you to have more vertical storage space and opportunity for better lighting and ventilation. Investigate the total costs versus the benefits in making a decision that is right for you.
Drive-Thru
Another long term goal to consider is designing a garage with separate entrances and exits. This design will maximize the flow of your garage and give it a professional look and feel. Make this a long-term goal and consider many design options before selecting the one that fits your needs.           
Recommended Readings: