Attaching a garage to your home can increase its value and improve the overall appearance of your house. One of the most crucial things to decide first is how you want your garage to appear. There are various kinds of structures that act as the same functionality as an attached garage.
You also want to consider the cost of building a garage. Is the investment worth it? Continue reading for the best attached garage ideas and tips when considering adding a garage addition.
Best Attached Garage Ideas
1. Carport
This open-air structure has a roof and sides from which you're able to park your car underneath. Your car, however, will not receive insulation in the winter as it would in a traditional garage. Although, it will receive protection from the damage of hail storms and snow coverage.
2. Garage With an ADU
Garages with an ADU (accessory dwelling unit) above are typically detached structures that have separate living quarters that can function either as a guest suite or as a rental unit. Expect for your city to require certain permits for these structures depending on its zoning laws. A garage with an ADU can have full living quarters as well as a kitchen and bath. 
Also Read: Different Types of Garages
3. Barn
A barn garage is merely just a detached garage with a storage area, finished with a garage door that allows for an easy fit with your car. 
4. Mountain European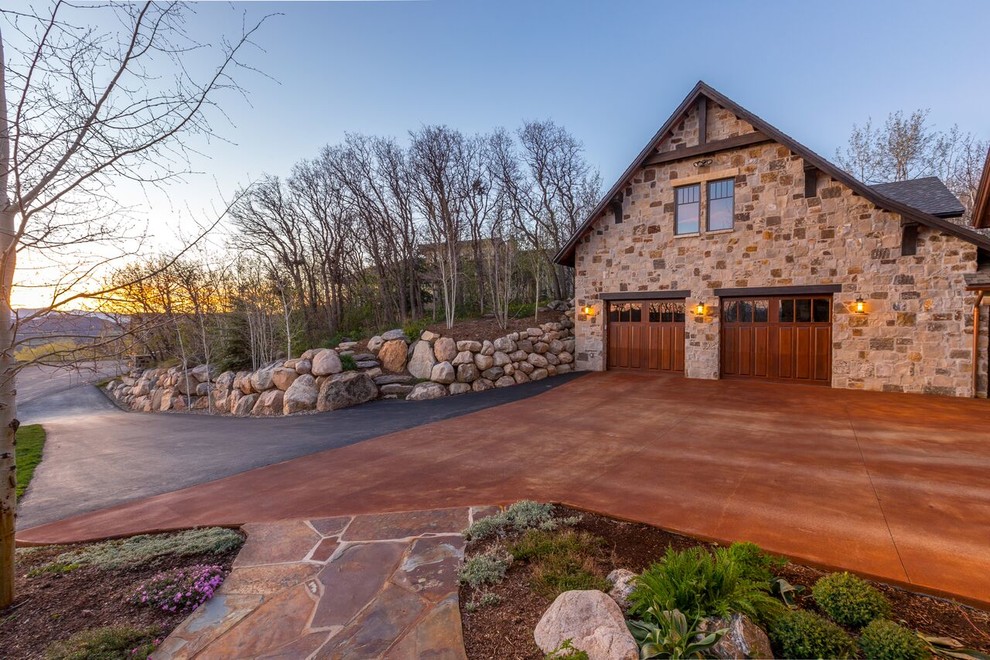 Mountain european garages have wooden garage doors, are able to accommodate up to three cars and creates a great rustic appeal.
5. Clay Front Exterior
This structure is attached to the home with two arches for each of the garage doors, which have a unique shine and color to them.
How to Evaluate Your House for a Garage Addition
1. Zoning and Code Restrictions
First and foremost, you must decide if it's physically achievable to fit a garage into your area. You can figure out the distance allowed to build to the edges of your property at your local planning department. Be sure to ask if there are any particular restrictions applied to garages, for example, requiring deeper setbacks on sides with doors.
2. Attached or Freestanding?
Deciding whether you should attach your garage to your home or have it built as a separate structure is very crucial. Attached garages are often more affordable and convenient when considering the short distance from your car to your house and avoiding getting caught in the rain.
You also get the extra space for storage or added areas, as well as more provided security than a detached garage since you wouldn't have to set foot outside. However, detached garages do have their advantages seeing as to how they can keep exhaust fumes, dust and noise of a workshop away from your home.
3. Size Requirements
You should figure on at least 14 feet by 20 ft for a single-car garage, and 20 feet by 24 feet for a two-car garage. Although, you may want to consider adding on an extra 6-8 feet in length and width.
4. Access and Traffic Flow
With a garage comes a driveway. A single-car driveway should at least be 10 feet wide and up to 14 feet with the possibility that interferences may scrape an opened car door. A two-car driveway should at least be 20 feet wide, up to 24 feet if the sides aren't clear.
There should be at least 20 feet between the garage door and the sidewalk if you plan on parking in front of the garage. You should even consider including a turnaround area if you live in a busy street or have a long driveway.
5. Relationship to the House
Your garage should be your home's accessory and not the main attraction. You should set the front further back from the street rather than the main entrance to the house to make the garage's appearance less dominant.
Consider facing your garage doors towards the side, with the addition of windows and any other house-like details to the front wall. If your garage doors face the street, consider a roof overhang that matches your home's style.
Cost to Build a Garage: Is it Worth It?
When considering the addition of a garage, you should also consider the value the garage will bring as well as how much it will cost you. An attached garage can cost you anywhere from $10,000 to $20,000, with a detached garage costing around $13,000 to $25,000.
Also Read: How Much Does a Detached Garage Add to Property Value
An ADU addition along with the cost of a standard garage structure can go into the $60,000 range. The expense is quite high, however, you get a nice return on your investment of which will be about 65 percent ROI.
Conclusion
A garage addition can be a worthwhile investment for your home, great protection for your car and increase your home's value. For more information visit our website or contact us today.
If you like what you are reading, please consider checkHere is a list of some of our other articles that you might like: